Pool Resurfacing
Refresh Your Pool With Pool Resurfacing in Sydney
Pool resurfacing involves replacing or refinishing the interior surface of a swimming pool, which can suffer from wear and tear over time. For the best pool resurfacing in Sydney, talk to Divine Pool Renovations about our comprehensive 22-Step Transformation Plan, designed to take the worry and hassle out of pool resurfacing.
So, leave all the preparation and work to us, and we will ensure that your pool is right as rain in no time.
Out With the Old
We remove the old, worn, stained surface and apply a new material layer to create a smooth, waterproof finish. Materials range from plaster to aggregate, tile and fibreglass. What material is opted for depends on various factors, such as your pool's shape and size, design ideas, and budget.
We have extensive experience with swimming pool resurfacing in the Sydney area, so you can rest assured that your dream pool project is in the right hands. In addition, we offer a range of pool finishes to choose from for an attractive, durable surface finish.
Pebblecrete Pool Resurfacing
Pebblecrete is a typical finish for concrete pools, comprising an aggregate of cement and pebbles or small stones and even glass beads. It gives your pool a natural look and a non-slip surface finish that is easy on the feet.
Regular care and maintenance are vital for a Pebblecrete surface to stay fresh, clean and eye-catching. Keeping a proper chemical balance in your pool will do the trick and prevent black algae from forming on the surface.
Divine Pool Renovations will inspect your Pebblecrete surface to determine the extent of any repair work. Algae and calcium deposits can result in the pebbles becoming porous and brittle. We can also identify and remove stains.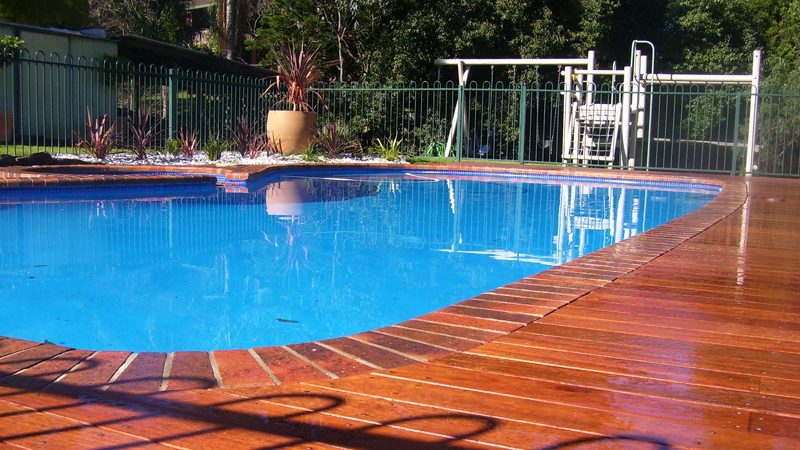 What to Look Out for in Your Pool
It is natural for a swimming pool to develop stains or discoloured areas over time due to minerals and chemicals in the water. If such stains are green or red and ordinary cleaning has no effect, you may have an algae problem and need to resurface.
Sometimes rough patches develop on the surface, exposing the gunite underneath. This erosion can be due to extended use, other damage or an unbalanced pH level. Any surface layer that starts to deteriorate likely calls for resurfacing. Another clear sign is the appearance of leaks or cracks, which can appear as gaps in the concrete or wet spots near the pool area.
Enhance Your Pool
Much more than a maintenance requirement, pool resurfacing allows you to enhance your pool's appearance.
Opting for Pebblecrete gives you a range of textures and colours for a unique effect while simultaneously addressing surface issues such as cracks or stains. Divine Pool Renovations has the know-how and experience for you to make a splash with our long-lasting and affordable pool resurfacing.